Equipment
Golf balls for 2022
---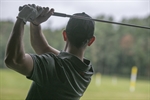 Much like your irons that we spoke about in the other short read, golf balls are never 'one size fits all' since everybody needs something that works for them. Having the right ball can elevate your game and improve your scorecard.
Supersoft
The Supersoft is a clear fan-favourite in Callaway's golf ball range. Getting distance and control at Callaway's lowest price point is what made these balls so popular. Plus, if you want a bit more confidence and forgiveness, you might prefer the Supersoft MAX balls; a larger, easier-to-hit version.
ERC Soft
If you're a golfer that struggles to find the distance you desire, these winter months are particularly difficult. That makes Callaway's ERC Soft golf balls a must-have. PARALOID Impact Modifier in the cover makes it easy to get plenty of distance, particularly off-the-tee. These balls are also made with Triple Track alignment to help you stay on line when putting.
Chrome Soft & X - Updated for 2022
The ultra-high performing Chrome Soft & Chrome Soft X golf balls are Callaway's most famous models. The tee-to-green performance is legendary on Tour and at Sunday Stablefords alike, but it's the latest development for 2022 that is most impressive. By X-raying every golf ball - stay with us - Callaway can ensure each one is perfectly centred, allowing you to trust that you'll have consistent performance with every strike.
We're only skimming the surface here. There's undoubtedly a Callaway ball that can unlock your full potential, but you'll only find it by getting fitted with our expertise. When we've paired you with the right golf ball, you will see the results for yourself. It really is that simple.